Finding A Pet Solution That is Right For Your Dog
Freedom & Safety for Your Pet
When you purchase a hidden dog fencing system from Pet Stop of Maryland, you're not only buying a reliable, pet-friendly, Made in the USA product that comes backed by our manufacturer's guarantee – you're also buying Pet Stop of Maryland's outstanding customer support and pet containment expertise. With over 10 years in the dog fencing industry, we're your local MD pet fencing experts, dedicated to making sure your dog or cat is safely and securely contained.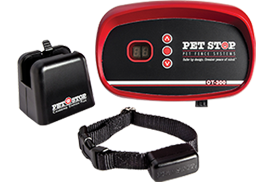 Outdoor Systems
We provide installations of outdoor underground fencing system that will not only keep your pet safely contained, but can also keep your pet out of your garden, landscaping, pool or other off-limit zones.
Indoor Solutions
Pet Stop of Maryland brings the benefits of boundary setting indoors, too. Our technology can easily keep kitty off the kitchen counter, the dog out of the litter box or correct any other behavior issues you may be having.
Custom Designs
Pet Stop of Maryland can customize the fence boundary layout if necessary – Fred DuPree is a state licensed electrician, he can make flower beds, pools, ponds (even streams, lakes and the ocean!) or any other landscaping elements off-limits to your pets in just a few days.
Our most common layout installation is a Full Perimeter loop. This layout gives your pet free range to roam your entire yard but not leave it.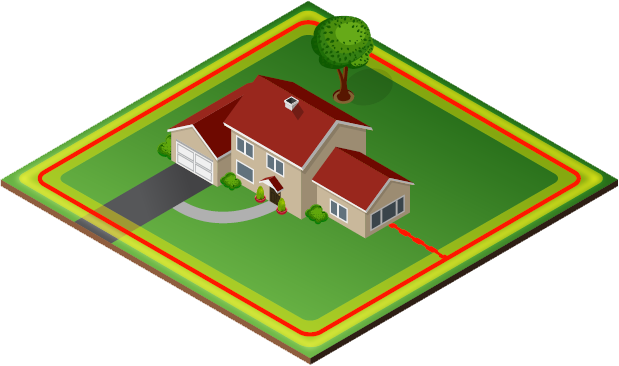 Also common is the Figure 8 layout. It's like the Full Perimeter loop, but with a pinch in the middle. This allows you to contain your dog in either the front yard or the back yard, it's up to you.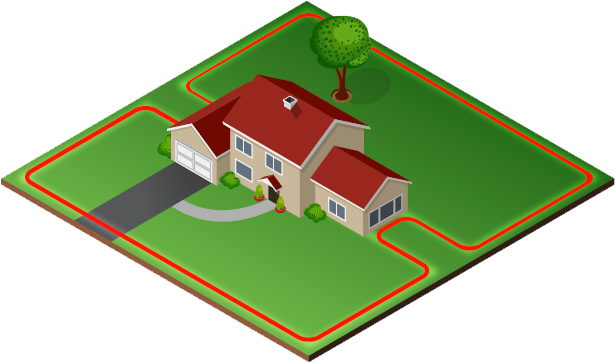 The Double Loop layout is used to contain only the front or back yard. It's generally only used when your property's geography won't allow for installation around the whole property.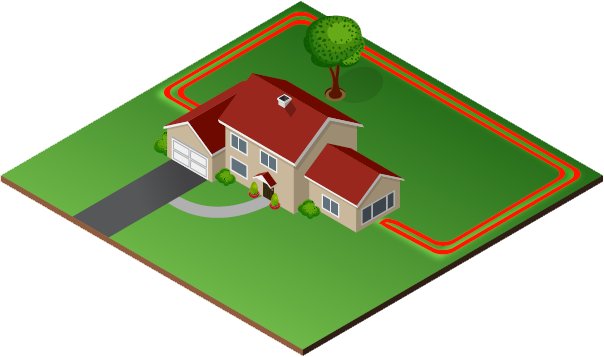 Small yards are no problem at all for Pet Stop® technology. Our boundary fences offer settings to create a one-sided signal zone around the perimeter wire in order to maximize the amount of yard your pet can enjoy.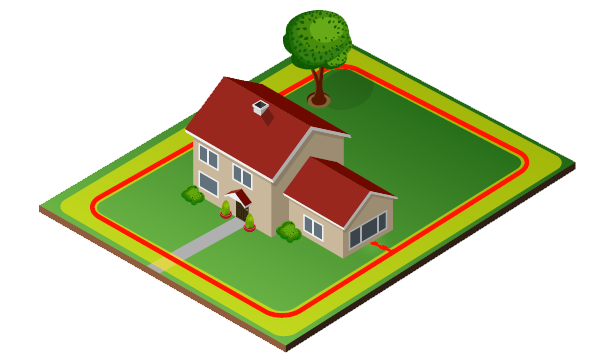 ---
As your authorized Pet Stop® brand pet fencing dealer, we're proud to provide the pets of Maryland with top-quality hidden electronic pet fencing. All of Pet Stop's products are Made in the USA and are designed with your pet's happiness, comfort, and health in mind. Humane and backed by our manufacturer's unmatched guarantee, when you combine Pet Stop's superior dog fencing products with our revolutionary low-stress training technique, GentleSteps™, it's no wonder that Pet Stop® has a 99.6% successful pet containment rating!
Invisible Fence® vs Dog Guard® vs DogWatch® vs Pet Stop®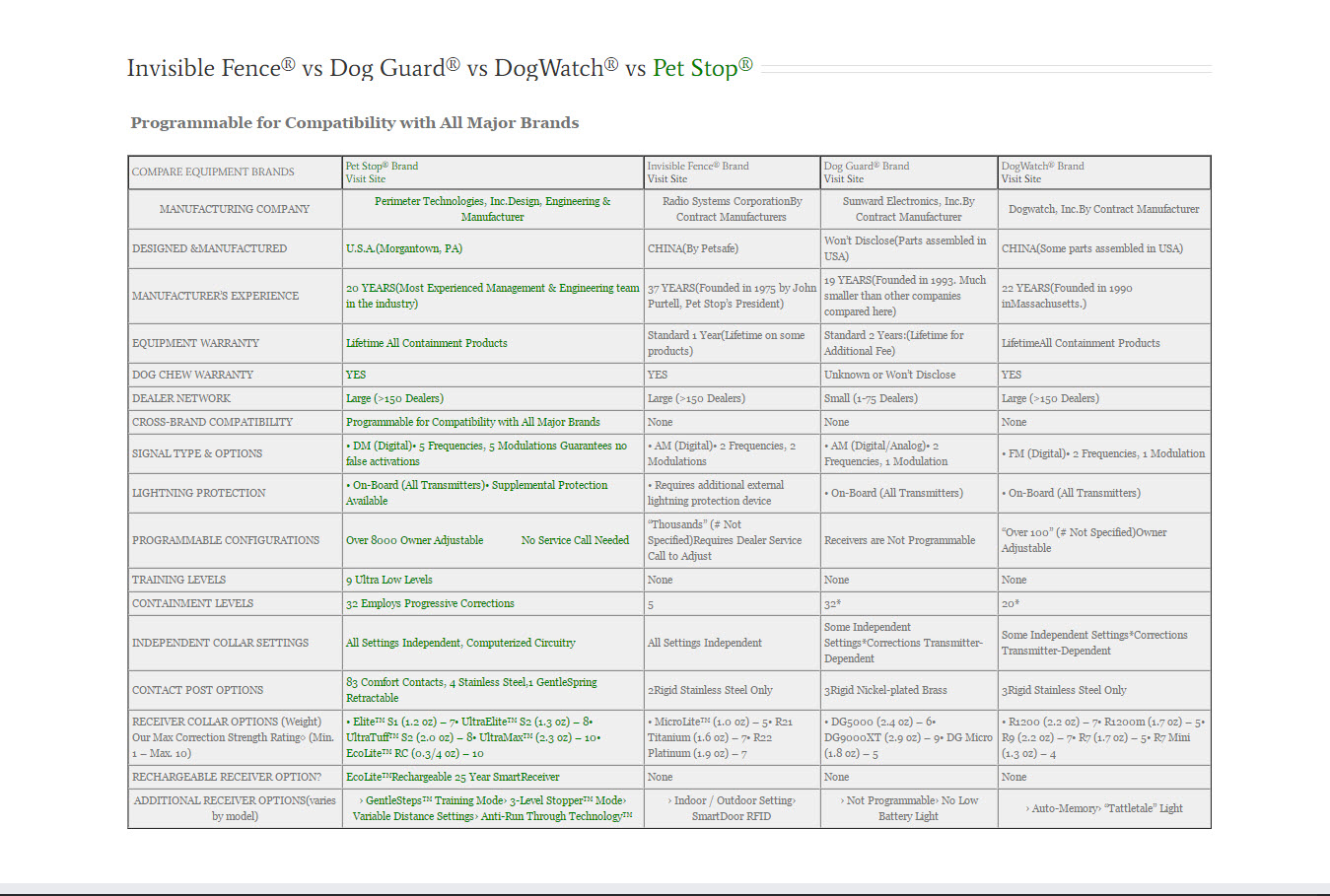 Customer Testimonial
Stuart (Pet Stop of Maryland owner), created a dog utopia for me and my neighbor. He was able to conjoin our systems and yards. This has worked out better than expected. In total we have about 2 acres contained and each yard is working off its own system. I also purchased another collar for our new pup. Stuart has been extremely helpful programming the Pet Stop collar to match the needs of my high energy doodle.
– Stuart was very accommodating
Frequently Asked Questions
No other system can match the range of patented, customizable features and expert training offered by Pet Stop. Each Dealer is an expert in pet fencing. The GentleSteps training is a Pet Stop exclusive. EcoLite Rechargeable Receiver and its diagnostic charger are also exclusive to Pet Stop. Our customizable systems produce a 99.6% successful containment rating – the highest in the industry.
Founded in 1992, Pet Stop is managed by a team of industry pioneers with the most experience and highest pet aptitude in the business. Only Pet Stop combines our genuine love of pets with in-depth knowledge and commitment to technology to produce the finest, most reliable pet containment system in the world.
Yes. Pet Stop is compatible with most other pet containment systems available on the market today, including Invisible Fence®.
When you buy into a Pet Stop system, we're confident you're purchasing hands-down the best containment system on the market. This belief in the effectiveness of our products makes it possible for us to offer a
lifetime warranty
on most products, as well as the following simple offer: if you can find a more advanced pet fence system than Pet Stop, we'll buy it for you. Period.
Absolutely. We offer a battery operated and a wired option. Our indoor system is every bit as effective as our outdoor pet fence system, but operates on a slightly different principle. The indoor unit is designed to customize areas of the home for your dog or cat to avoid, rather than keep contained within; however, the system can be used to limit a pet's habitat if need be. Find out more about our indoor unit by visiting products.
Absolutely. All you'll need is wire installation to fence in the boundaries at your new location. Contact your dealer for more information.
Contact your dealer for current promotions and speicals.